Kimberly Trudo
LMT Massage Therapist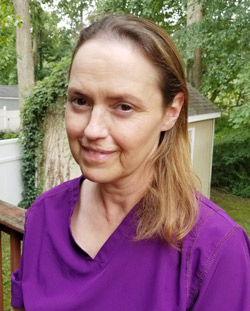 Born in Washington DC. Lived in Beltsville, Crofton, Glen Burnie and now Edgewater Maryland Graduated from Tesst College, Beltsville Md in 2004 for Massage Therapy.
Although I had training in most massage modalities I specialize in therapeutic deep tissue massage and relaxing Swedish massage.
I like to get in and release the tight muscles, or just relax the muscles and help relieve stress.
I worked for a small time in a spa in Bowie, Md and then DeMaio Chiropractic since December 2004 and have been there ever since.
I love working there the doctors and staff help me so much, and I have the best clients. When they say they feel so much better after the massage it makes my day!
Outside the Office
I am also an avid Washington sports fan!!!

Kimberly Trudo | DeMaio Family Chiropractic & Physical Therapy